June 23rd, 2017 -- We'd like to unveil our latest project, In The North - a bi-weekly newsletter of brewery updates, area adventures, and beers we're tinkering on. We've received a lot of questions about our process, events, new beer releases, and things to do in our area - this is our forum to prepare you with everything that you'll need for a beer trip north.
As the official start of summer has just arrived, things at Portage are moving at a wildly fast pace. Beer production for tourist season has already required us to purchase two new tanks, and we're in your debt for the thirst and support. None of us could've anticipated this, and we're working around the clock to say on top of it all. Read on below to see what we've been up to - and as always, boat, bike, or drive up to share a cold beer with us. Current hours are Thursday / Friday from 4 to 9, and Saturday from noon to 9. On ahead.
- Jeff Vondenkamp, Co-Founder + Head Brewer
WILD IPA RETURNS, NEW BEERS RELEASING SOON
After running dry of our most popular beer again, we're back with a newer and juicer version of the fruity, hazy New England style IPA. Back on tap this weekend, along with our newest Session IPA which packs a light punch of malt sweetness and fruity hop aroma. Releases next week include our CoffeeCake Blonde Ale, Cocoa Wheat Porter, and Peanut Butter Cocoa Wheat Porter.
WE'RE HIRING A BREWERY INTERN, YOU SHOULD APPLY
Are you interested to immerse yourself in the world of commercial craft beer? Our head brewer is looking for an intern to take under his wing. Brewing, design strategy, and bar training are just a few of the learning opportunities being offered. Must love beer, be 21 or older, and able to work in Walker, MN for 20 hours per week to apply. Please email us if you're interested at hello@portagebeer.com, and we'll send you more details.
PARTNER SPOTLIGHT: KAFFE HAVN COFFEE ROASTERY
As our top rated beer, CoffeeCake, has earned keep into our list of flagship beers, we can't forget to tell people how this came together. Back when we were preparing to open, ideas about all kinds of recipes came to the table. After getting to know the local community, we learned that a coffee roastery had taken shape in the old Leech Lake Brewing facility - Kaffe Havn. At our first meeting the team greeted us with countless ideas ways to partner, and relationship was born. The CoffeeCake Blonde Ale is a culmination of that - we call it a breakfast beer that surprises most who try it, and resembles a piece of fluffy coffee cake. Thanks to the Kaffe Havn team, we were able to drop a lightly roasted Columbian bean into our recipe, offering drinkers a unique blend of fruity, cocoa, coffee flavor.
A background of their team is important as they strive to fuel a social mission of assisting disabled people through their local facilities. An explanation of how the two projects came together from the owner, Jim Rogen - "our goal is provide good quality coffee competitively priced with the added social benefit of the consumer knowing they are helping to employ the disabled; coffee with a purpose. A saying we have is "everyone needs a reason to get out of bed." These jobs do help our workers get out of bed. Like anyone else, they know that most jobs give more than a pay check. They understand the self worth and the sense of team and purpose that comes with a job."
We've also added vietnamese cinnamon and vanilla to the mix which balances the coffee flavor and adds some complexity. We're currently out of this but are in the process of brewing for the July season.
AREA ADVENTURE: HIKE THE NCT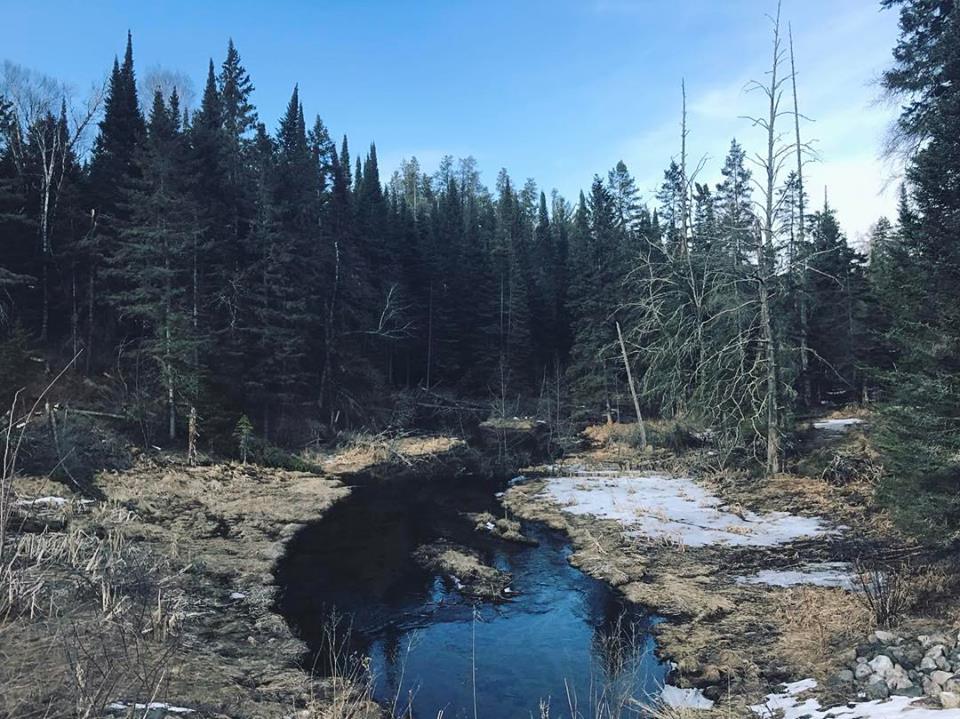 Our latest adventure spotlight comes from a most obvious place known to most Walker residents - the North Country Trail. This 4,600 mile contingent trail passes right by Walker, stretching from North Dakota onto New York, and offers expansive opportunities to hike, camp, and bike. Please visit our writeup on a recent trip our head brewer took into the park, here.